A wee quick (and thankful!) break in revision to bring you this: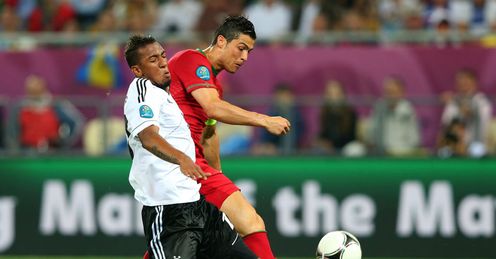 Jerome Boateng superbly thrawted Ronaldo
in his only clear cut opening all game.
Whilst Cristiano Ronaldo very much fluffed his lines in lighting up Portugal's opening game of Euro 2012 a certain 'rival' of his was proving - on the other side of the planet - just why he is, the best player on the planet.
In the 82,000 capacity MetLife Stadium, New Jersey an insignificant but headline-grabbing friendly caught the eye of much of the social media and broadcasting across the globe. Mano Menzenes's Brazil side are in their final stint of preparation for this year's London Olympic Games and were keen to observe how some of their much touted younger generation would cope against some of International's real big boys.
As anyone in the football family knows - a friendly between Argentina and Brazil is never really a friendly.
Unfortunately for Menezes and Brazil, Lionel Messi choose to ensure that the world's collective eyes remained on his glorious talent rather than that of his Portugese rival starring over in Ukraine.
Messi second after rounding Rafael Cabral
Now the 'argument' that fans of self-acclaimed CR7 and the only real doubters of Messi's level of genius claim that he is 'lost' without his Barcelona team mates, with no Xavi or Iniesta, he achieves little and is quite ineffective.
The great Pele has also laughed off suggestions of the 'Messiah' being named the 'Best Ever', claiming "When he stars in 4 World Cups, then we can talk about best ever".
Evidently, Messi's reputation is somehow continuing to be tarnished because of International level. What point do they have? By the man's talents, Argentina had a desperately disappointing 2010 World Cup, the whole World was judging him and he appeared overwhelmed.
The great 1982 World Cup Rossi
hat trick
Prior to yesterday's outing the 24 year old Rosario born man boasted of a mere 21 career hat tricks - in adding to his tally he smashed Paolo Rossi's record of the last player to net a treble against The Samba Boys in 1982 and beating Jose Sanfilippo as the last Argentinian to do so - all the way back in 1959.
It must be considered that out of his 22 match balls he now has sitting at home, this friendly one will be up there with his most honoured. Forget Champions League heroics, La Liga or Copa del Rey - this is the one that has screamed "I do it on both stages".

Following this year's Club
World Cup Neymar will be
sick of the sight of Messi
With 8 goals in his last 4 games of the Blue and White stripes of Argentina it is very much beginning to appear he doesn't save his best for the fortunate Camp Nou crowd, his nation's people hail him just as religiously.
The failure of Argentina to qualify for this year's London Olympics is a great shame, to see him master that Wembley turf the way he did at Manchester United's expense in 2011 would have been a sight to behold.
2014 World Cup in Brazil - just has a special feeling about it. Messi, to finally silence his doubters - to perform on the World's biggest stage, in the home country of Pele against their greatest rivals (much like yesterday) would be dream-like and would truly crown him as the best we have ever seen.
For now though, I will leave you with the strike that earnt him yesterday's match ball, his 82nd goal of the season and a performance against Brazil that he will remember for the rest of his days.